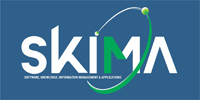 12th International Conference on Software, Knowledge, Information Management & Applications
3-5 Dec 2018, Phnom Penh, Cambodia
Workshop on ai2product & DataAnalytics4all
A training program on how to use AI (artificial intelligence) to product (business, education, engineering, health, research projects) or CPD (continuous professional development) of professionals
Trainers: Professors/Researchers of AI of the renowned Universities.
Duration: 1 full day (outline given below).
Start Time & Date: 9:00am, Monday 3rd December 2018
Lunch and refreshment will be provided.
Fees and payment process: $100 (on spot)
Target participants: Anyone interested in AI (artificial intelligence) and data to promote their personal interest for business, innovation or industrial process, with a particular target to enhance efficiency, productivity and reduce costs.
Aim of the training
"AI and data is one of the four grand challenges of the UK government that has been setup in May2018. Speaking at an AI conference in London, Mr Dave Coplin (Microsoft CEO) emphatically told business leaders that AI is "the most important technology that anybody on the planet is working on today," (Business Insider, September 2017). It is also noted that an AI Specialist typically earns among the highest salaries within the technology jobs market (New York Times, Oct 2017)."
This training will offer you an opportunity in building your understanding on how to use AI and data for innovation, transformation and automation. Particularly, we aim to promote this training for any individual, organisation or industry to develop conceptual framework on how they can use AI to enhance productivity, efficiency and reduce costs. There will be examples and hands on enabled training session in which the participants are expected to develop a model of a problem (either assigned by trainer or selected by trainee) during the second session of the programme using AI.
Outline for the Session 1
What is AI? Is AI around my everyday activities?
Why can't I see and know the influence of AI around me?
Why AI is important?
What if I don't use AI?
Future influence of AI?
What are the key processes AI is offering?
Data, big data and importance of data in your solutions.
How data becomes knowledge?
How data brings value in business?
How one can sell knowledge in the market?
Data security, preservation and long term importance
How can a fusion model help in my business or decision making process?
How can machine learning help like an expert in my solutions (classification, clustering, reinforcement learning and prediction)?
How can I optimise my work/tasks/services/business process/industrial process to enhance productivity, efficiency and reduce costs?
How can I use hybrid AI process to perform better in my existing work/product/services/business/solutions? What benefits it will bring if I do so?
How to develop expert systems (with practical examples)?
Outline for the Session 2
Hands on work with Examples: (i) Participants are expected to send their problem outline without indicating their confidential information at the beginning of the session 1. They will then have opportunity to work with the trainers or consultants to develop a conceptual solution framework during the day, (ii) In case the participant fails to outline their problem sufficiently or does not have any major problem to select, they will still have the opportunity to work with the common intelligent decision support framework to be supplied by the training providers.
Program Schedule
Time Slot

Title of the session

Resources

Lead Person(s)

8:30-9:15

Welcome, Registration & Refreshment

Registration – based on eventbrite

Dr. Dewan Farid & a local volunteer

9:20 – 10:10

Introduction to AI and Data analytics (will cover points 1-11 indicated in the Session 1 outline)

Projector for PPT slides

Prof Alamgir Hossain

10:10 – 11:00

Interactive session to understand participants' challenges (part of Session 2)

Participant is expected to present their problem/ideas/challenges (2 min each maximum)

Prof Alamgir Hossain & Dr Dewan Farid

11:00 – 11:45

Information Fusion and Optimisation (12 & 14 of session 1) with examples

Projector for PPT slides

Prof Keshav Dahal

12:00 – 12:50

Machine (adaptive, reinforcement, deep) learning with examples (13 & 16 session 1)

Projector for ppt slides

& Laptop to provide example

Prof Alamgir Hossain (20 min) & Dr Dewan Farid (30 min)

12:50 – 14:00

Lunch Break (to be provided)

14:00 – 15:00

Practical session (associated with all points)

Laptop & Internet Facilities

Dr Dewan Farid

15:10 – 17:00

Decision Support System – an interactive session

(group work; 15-16 of session1 & session 2)

Projector for PPT slides; Pen/Paper/ white board

Prof Alamgir Hossain, Prof Keshav Dahal & Dr Dewan Farid

17:00 -17:15

Concluding remarks, feedback and attendance Certificate

Attendance certificate (SKIMA)

Conference Chairs
This will be conducted by:
Professor Alamgir Hossain, Anglia Ruskin University, UK
Professor Keshav Dahal, University of the West Scotland, UK
Dr. Dewan Md Farid, United International University, Bangladesh
Participants Background: Open to all; Participant can attend one of the two programmes
Registrations: First come first serve(30 seats only) basis through Eventbrite
For further details. Click: ai2product or DataAnalytics4all
Registration Fee: $100 (on spot) only for the registered participants. The workshop is held in conjunction with SKIMA2018 confernece.

To attend the confernce, SKIMA organisers are pleased to offer discounted rate same as local registration GBP 150. The last day to register is November 20, 2018.
Partner Universities