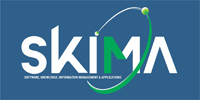 12th International Conference on Software, Knowledge, Information Management & Applications
3-5 Dec 2018, Phnom Penh, Cambodia
Registration & Camera Ready Paper Deadline
Registration and Camera Ready Preperation for SKIMA2018 Conference
Conference registration in now open. Please see below the information for various conference registration types and choose the one which is applicable to you.
* Authors must register in order to submit final papers. Each paper must have full registration charge associated with it. Each registered paper must be presented at the conference by a registered author.
Registration Type

Early bird registration

(before Nov 07, 2018)

After Nov 07, 2018

European and International Participants (Author*)
GBP 325
GBP 375
IEEE Members (Author*)
GBP 275
GBP 325
SAARC Countries (Author*)
GBP 200
GBP 250
Local Participants (Author* and non-Author -Cambodia)
GBP 100
GBP 150
General Participant (Non-Author)
GBP 200
GBP 250
All rates are in Great British Pounds (GBP). If you are paying online in another currency, conversion rates determined by your financial institution will apply.
Note: General registration is for attendance only to allow non-authors attend the conference. Authors must register at a rate which includes (*Author) in the table above.
Detailed Instructions for Preparing Camera Ready Paper (papers accepted for IEEE Xplore)
Instructions for Preparing the Camera Ready Paper and Registration (SKIMA 2018)
1. Prepare your camera-ready paper as per reviewer's instructions and according to IEEE format. Please use the following website to download the templates.
https://www.ieee.org/conferences_events/conferences/publishing/templates.html
Please note that if you do not prepare your paper according to reviewers' comments, your paper may not be included in the conference proceedings.

Proofread your source document thoroughly as there will be no possibility for further revision.
2. Add the appropriate copyright clearance (choose only one among 4 options highlighted text in bold below) notice is to appear on the bottom of the first page of your paper (source document).
For papers in which all authors are employed by the US government, the copyright notice is: U.S. Government work not protected by U.S. copyright
For papers in which all authors are employed by a Crown government (UK, Canada, and Australia), the copyright notice is: 978-1-5386-9141-0/18/$31.00 ©2018 Crown
For papers in which all authors are employed by the European Union, the copyright notice is: 978-1-5386-9141-0/18/$31.00©2018 European Union
For all other papers the copyright notice is: 978-1-5386-9141-0/18/$31.00 ©2018 IEEE
3. Generation of the PDF file and validation of the manuscript by IEEE PDF eXpress
Prior to submission, the final manuscript PDF file must be validated by IEEE PDF eXpress to ensure that it is IEEE Xplore-compliant.
a. Go to IEEE PDF eXpress Website at https://www.pdf-express.org/.
b. If you are a new user, select 'New Users – Click here' and enter the Conference ID: 45805X, your email address and choose a password. If you have used previously PDF eXpress you should enter the same password that was used for previous conferences.
c. Once PDF is approved save it as "YourName_SKIMAPaper_ID"
4. Register your paper before November 07, 2018. The registration information provided on the conference website:
http://skimanetwork.info/registration
As instructed on the conference site, the registration process will allow the papers to be appeared in the conference proceeding. At least, one author from each paper must register at full rate for the paper to be appeared in the proceedings. Multiple papers authored by the same person can be published and presented using discounted rate for additional papers.
5. Please send the all documents in the email at skima.conference@gmail.com. In the subject line of your email please mention your paper id with the following format: "SKIMA2018 Camera Ready Paper ID#xxx" (xxx is your paper id). The following documents should be included in the email.
The PDF version of the IEEE format camera ready paper

The proof for completed registration for this paper.
6. You will have to complete the IEEE Copyright form. The instructions to complete this will be announced within the next few weeks by email. Please check your mailbox and complete the form once you receive the instructions. Otherwise, you risk that your paper will not be considered for inclusion in the IEEE Xplore.
Please take note that the deadline for submission of camera ready paper and registration has been extended till November 07, 2018.
Partner Universities