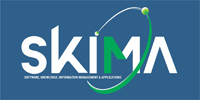 12th International Conference on Software, Knowledge, Information Management & Applications
3-5 Dec 2018, Phnom Penh, Cambodia
Internet Governance and Policy for Technology Innovation
Professor Amir Qayyum

Dr. Amir Qayyum is a professor and Dean, QEC at Capital University of Science and Technology (CUST), Islamabad. He did his PhD in mobile wireless networks from University of Paris-Sud, France. Since 1997, he is actively involved with Internet Engineering Task Force (IETF) and is also a co-author of an RFC on MANETs. He is also involved with Internet Corporation for Assigned Names and Numbers (ICANN), initially as a fellow and then as a member of ICANN Nominating Committee. Dr. Qayyum is the Chair, Board of Directors of Internet Society (ISOC) Islamabad Chapter and is one of the founding members of the chapter. He is actively involved with IEEE activities since 2004, and currently serving as the Chair, IEEE Islamabad Section. He is the founding Director of Center of Research in Networks and Telecom (CoReNeT), and is the Project Director of many national and international funded research and development projects in the domain of wired and wireless networks.

Title: Internet Governance and Policy for Technology Innovation

Abstract:
In the past decade, all the frontiers of information and communication technology are extended by a thorough research. One of the dimension is the policy making in this technology infrastructure, how it is managed and who governs it. While looking at the bigger picture of Internet growth, and the related technology evolution, it is important to understand the overall ecosystem of the Internet. This talk will explore how the ICT research is facilitated and pushed by the whole Internet ecosystem, and particularly by the foundation principles of its policy. The discussion will also overview the role and impact of major I* (called "I star") organizations, like ICANN, ISOC, IETF, etc. related to Internet governance and its ecosystem. The talk will conclude by briefly touching upon the future trends of Internet governance in the global scenario.
Partner Universities