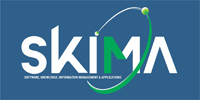 12th International Conference on Software, Knowledge, Information Management & Applications
3-5 Dec 2018, Phnom Penh, Cambodia
ICT and Smart Technologies for monitoring and operation of smart cities in developing countries
Professor Keshav Dahal

Professor Keshav Dahal is the leader of the Artificial Intelligence, Visual Communication and Networks (AVCN) research centre at the University of the West of Scotland, UK. He received the M.S. degree in electrical power engineering and the Ph.D. degree from the Department of Electronic and Electrical, University of Strathclyde, Glasgow, U.K., in 1996 and 2000, respectively. Before joining UWS he was with Bradford and Strathclyde Universities in U.K. He has published over 130 journal and conference papers including some award winning papers and has sat on organizing/program committees of more than 55 international conferences including as the General Chair and Programmed Chair. His research interests lie in the areas of Computational intelligence, Big data, Scheduling/Optimisation, Trust/security modelling in distributed systems. He has successfully supervised the completions of 8 Post-Doctoral and 15 PhD studies. He is a senior member of the IEEE.

Information and Communication Technologies (ICT) and Smart Technologies have recently been at the core of strategies for sustainable development and economic growth of the society. They can play a notable role in societal development through e-governance, e-education, e-health, communication and other sectors. Enhancement in the ICT/smart infrastructure directly reflects the societal advancement and its relationship with public and private sectors along with the citizens. It strengthens democratic norms and values, supplements the economic development and improves the quality of life thereby helping to develop citizen-centred transparent services and knowledge-based society.

Smart technologies are the main ingredient of the intelligent systems facilitated by the ICT infrastructure using internet of things (IoTs), sensors and networks technologies. This talk introduces some of the recent developments in smart technologies that are used for monitoring, security, operation and maintenance of the infrastructure in smart cities and smart villages. Lessons learned from several case studies from around the world will be presented. In developing countries, ICT and smart technologies have been used in small scale in some government and private sectors, such as citizenship, passport, driving license, healthcare sector, education etc. The keynote talk highlights potential applications of the smart technologies to the infrastructure development in smart cities.
Partner Universities