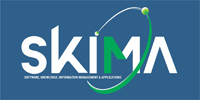 13th International Conference on Software, Knowledge, Information Management and Applications
(with The International Workshop on Applied Artificial Intelligence - AI)
26-28 August 2019,
Island of UKULHAS, Maldives

Registration
The registration process begins once your paper is accepted. It is mandatory for at least one author of an accepted paper to register, attend and present at the conference in order for the paper to appear in the proceedings. Registration package will include,
Attendance to all sessions and special talks, of course,
Conference literature and a special gift from the Maldives,
Coffee breaks AM and PM (on the 26th, 27th and 28th August),
Buffet lunches (on the 26th, 27th and 28th August),
Dinners, including a special conference dinner (on the 26th and 27th).
Publication of the paper in the IEEE conference proceedings,
Certificate of participation.
The registration fee is set to be approximately US$500 (to be finalised).
Link to the registration site will appear here shortly.
Sponsors
Sponsor 1

---
Sponsor 2
---
Sponsor 3

---
Partner Universities of EU-ASIA network