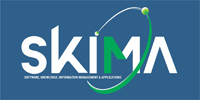 13th International Conference on Software, Knowledge, Information Management and Applications
(with The International Workshop on Applied Artificial Intelligence - AI)
26-28 August 2019,
Island of UKULHAS, Maldives

Prof. Dr. Abdelaziz Bouras
From industry to Cultural Heritage Preservation: Deep Learning based solutions

Abdelaziz Bouras

Dr. Abdelaziz Bouras is Professor in the Computer Science and Engineering Department – College of Engineering of Qatar University (QU) and Manager of the Pre-Award Department of the Office of Research Support (Vice-President of Research and Graduate Studies office). He joined QU in 2013 as Chair of the ictQATAR Scientific Chair position (Supreme Council of Information & Communication Technology — currently Ministry of Transport and Communications).

He obtained his PhD and Habilitation in Computer Science from the University of Lyon (France) and has been recently conferred the Honoris-Causa PhD in Science (Chiangmai University) by HRH Princess Maha Chakri Sirindorn of Thailand.

Before joining QU, he was full Professor (Exceptional Class) at University of Lyon, where he was successively Deputy Director of PRISMA and DISP "Information and Decision Systems" research laboratories and Director of the "Innovation and Knowledge Transfer Center" for university/industry collaboration. He enjoyed research stays in several institutions, such as NIST Maryland-USA and several universities in Europe and Asia.

Dr. Abdelaziz is currently the Chair of the IFIP WG5.1 Working Group on ICT Lifecycle management and contributes to several international programs, such as the NIST Cyber-Physical Systems framework. He leaded or participated in more than 12 international projects in Europe (ie. FP7: Smart Wearable Products, Future Internet Technologies for Manufacturing industries, Sustainable e-Tourism…) and Qatar (ie. NPRP: Blockchains for Supply chains, Industry integrated education, Knowledge preservation and Smart Cities), and contributed to the creation of start-ups (Ginkyo in France, Digital Incubation Center in Qatar).

He has founded or co-founded several international conferences (IFIP PLM Internat. Conf., IEEE SKIMA Internat. Conf., CAD Internat. Conf….) and scientific journals (SSMS, IJPLM, JMPM, IJPD,…) and consulted for governments, organisations and companies in Europe, America and Asia. He is member of IEEE, ASME, IFIP, EAI, Design Society, GDR-MACS, V-LAB, MICADO… and received several international awards and grants for his initiatives in the field of ICT and their applications.

Dr. Abdelaziz acts as expert for several research/education agencies (Canadian NSERC & FNRT, French ANR & AERES, Italian ANVUR, Greek Ministry of Education) and universities (in Thailand, Jordan, China, Morocco, KSA, etc). He finally was visiting Professor in Mexico, India, Thailand and USA.

Abstract:

Digital technologies provide multiple tools that address challenges related to the information access, the promotion and the preservation in the cultural heritage context. The large data collections of cultural information have more potential to add value and address current challenges with the recent progress in artificial intelligence and deep learning tools. Through this talk, we highlight the impact of the digital transformation in the cultural
domain and investigate several approaches that are used to promote, curate, preserve and value cultural heritage through new and evolutionary techniques based on deep learning tools. Such approaches intend to classify and annotate cultural data, complete missing data, or map existing data schemes and information to standardized schemes with language processing tools. We focus on a case study related to visual completion of damaged assets
and the automatic text processing technologies associated with cultural data in the context of open standards and data schemes mapping. Such work is based on Generative Adversarial Networks (GAN) for paintings completion and Natural Language Processing (NLP) techniques for Named Entity Recognition (NER) and Relation Extraction (RE) for assets enrichment. This is being integrated in a smart collection management system (S-CMS) in collaboration of an Art Museum.
News & Events
SKIMA conference schedule

New



Important Dates
Special session and tutorial proposal :
31 March 2019
Paper Submission Deadline :
15 May 2019
Notification of Paper Acceptance :
20 June 2019
Registration and Camera Ready Paper Deadline :
20 July 2019
Conference Date :
26-28 August 2019

Technical Sponsor

Sponsors
Sponsor 1

---
Sponsor 2
---
Sponsor 3

---
Partner Universities of EU-ASIA network