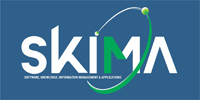 12th International Conference on Software, Knowledge, Information Management & Applications
3-5 Dec 2018, Phnom Penh, Cambodia

Paper Submission
Authors can login to view their submitted paper from the following link.
---
Program Committee can login from the following link.
Copyright Form
A copy of the copyright form for IEEE is to be submitted with each paper. Download the copyright form as pdf from here:
http://www.ieee.org/documents/ieeecopyrightform.pdf
Please kindly fill in a hardcopy copyright form, sign it, scan it and convert it into PDF. You can upload it to the Easychair system as an attachment to your paper. Go to easy chair -> log in to the system -> select your paper -> upload a new version.
Partner Universities