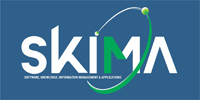 13th International Conference on Software, Knowledge, Information Management and Applications
(with The International Workshop on Applied Artificial Intelligence - AI)
26-28 August 2019,
Island of UKULHAS, Maldives

Information
The conference will be held on the island of Ulkulhas in the Maldives. The island of Ukulhas in the north of the Maldives is a perfect definition of a tropical paradise. Like other islands in the Maldives, Ukulhas has pearly white sandy beaches, turquoise lagoons, lush tropical vegetation and friendly locals. The island is well known for its cleanliness, well-maintained waste management systems and its strong commitment to protecting and preserving the environment.
The island has been a travel destination for international tourists, since 2012. Hence it is equipped with modern amenities and combines the idyllic experience of staying on a tropical paradise island with all modern amenities such as fully air conditioned accommodation rooms, international cuisines and internet connectivity.
Getting to Ukulhas:
You can get to Ukulhas direct from Velana International Airport (the main airport in the Maldives) via speed boat ferry. It takes around 1 hour 25 minutes to reach the island. The cost is USD 50 per person one way (return $100). All our conference attendees will be met at the airport by our representatives who will escort you to the speed boat departure terminals.
Accommodation:
We have requested special rates from a number of guest houses in Ukulhas for guests attending the conference. These guesthouses include, Island Vista Inn (www.islandvistainn.com), Thundee Inn (www.thundeeinn.com), Ukulhas Inn (www.ukulhasinn.com) , Coral Reef View Inn (www.coralreefviewinn.com) and Island Chrome Ukulhas (www.islandchromeukulhas.com). A double room with breakfast inclusive of all taxes is USD 80 per night for 2 persons. Children under 5 years can stay free in the double bed. Should you require a cot bed in the room, a charge of USD 15 per night will be incurred.
Climate:
The Maldives is sunny throughout the year. The average daily temperature is forecasted to be approximately 30°C.
Visa Requirements:
A pre-arrival visa is not required to enter the Maldives. A free visa of 30 days is issued for all nationalities upon arrival.
Currency:
The currency used in the Maldives is Maldivian Rufiyaa. The currency code is MVR. US dollars are widely accepted in the country and all major debit and credit cards can be used in hotels, shops and restaurants.
Voltage:
The Maldives uses a standard 230 Volts, 50 Hz alternating current as the power source. The standard socket is the UK-style three-pin.
Telephone and internet:
Telephone and internet connectivity across the Maldives is very good. You can obtain 3G/4G prepaid SIM cards at the airport or selected shops on the islands.
Social Events:
We have arranged local entertainment activities during the conference dinners. In addition on the 29th August we have organised two social events – a half day trip to a local sand bank or a half day to trip to a traditional local island. The cost of the trip will be additional $75 per person (which will include transport, guided tours and meals/snacks).
Sponsors
Sponsor 1

---
Sponsor 2
---
Sponsor 3

---
Partner Universities of EU-ASIA network