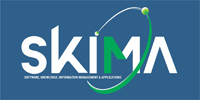 13th International Conference on Software, Knowledge, Information Management and Applications
(with The International Workshop on Applied Artificial Intelligence - AI)
26-28 August 2019,
Island of UKULHAS, Maldives

Invited Talks Speakers
Invited Talks Speakers

Dr. Olga Sourina is Principal Research Scientist at FraunhoferIDM@NTU Research Center and a head of Cognitive Human Computer Interaction research lab. She received her Master of Science degree from Moscow Engineering Physics Institute (MEPhI), Russia in 1983, and her PhD in Computer Science from Nanyang Technological University, Singapore in 1998. Her research interests are in brain-computer interfaces including real-time emotion, stress, vigilance and mental workload recognition, machine learning, AI, neuroscience-based design, visual and haptic interfaces, serious games, visual data mining and virtual reality. Dr Sourina has more than 180 publications including more than 60 research papers in international refereed journals and 3 books. She presented more than 70 papers and gave 15 invited and keynote talks at International conferences. She is a member of program committee of many international conferences including conferences on Cyberworlds and CGI. She is a Senior Member of IEEE, and a member of International Organization of Psychophysiology.

Abstract

Artificial Intelligence (AI) technological advancements are accelerating development of different applications including human factors evaluation systems. Machine learning and deep machine techniques are applied to recognize levels of human mental workload, stress, emotions and fatigue from biosignals such as Electroencephalogram (EEG), heart rate, etc during the task performance. By utilizing such biosignal-based AI systems, true understanding of subjects working pattern can be obtained. Based on the analyses of the objective real time data together with the subjective feedback from the subjects, we are able to reliably evaluate current systems/hardware, working place design, computer interfaces and refine new concepts of future human-machine systems. We describe state-of the art real-time algorithms of emotion recognition, mental workload, vigilance and stress recognition from EEG based on deep learning techniques and its integration in human-machine interfaces including car driving assistant systems, air-traffic controller stress assessment and cadets/captains stress AI assessment systems. Overview of emerging applications and open problems are presented.
News & Events
SKIMA conference schedule

New



Important Dates
Special session and tutorial proposal :
31 March 2019
Paper Submission Deadline :
15 May 2019
Notification of Paper Acceptance :
20 June 2019
Registration and Camera Ready Paper Deadline :
20 July 2019
Conference Date :
26-28 August 2019

Technical Sponsor

Sponsors
Sponsor 1

---
Sponsor 2
---
Sponsor 3

---
Partner Universities of EU-ASIA network