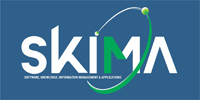 12th International Conference on Software, Knowledge, Information Management & Applications
3-5 Dec 2018, Phnom Penh, Cambodia

Conference Venue
Institute of Technology of Cambodia (room 109A), Phnom Penh, Cambodia
There are a number of hotel nearby. Phnom Penh is generally an affordable tourist place. Conference participants can easily find a number of options for all budget ranges. On average a 4 star accommodation will cost around 80 USD per night or less (depending on the location). Following suggestions are made by the local organisers.
1. Sunway Hotel - Weblink to Sunway Hotel
2. Phnom Penh Hotel - Weblink to Phnom Penh Hotel
General Information:
Time
| | |
| --- | --- |
| Time | Date |
| 12:30-5:00 | 03 Dec 2018 |
| 8:00-5:00 | 04 Dec 2018 |
| 8:00-13:00 | 05 Dec 2018 |
Reception and Gala dinner
- Reception will be on 03 Dec 2018, leaving the conference venue at 6pm
- Gala dinner will be on 04 Dec 2018, leaving the conference venue at 6pm
The restaurant will be confirmed during the conference
Arrival and Transportation: Phnom Penh International Airport has only one terminal.
Transportation will be arranged for international participants who stay at Sunway hotel, Sanhen Hotel and Phnom Penh Hotel only. Our Facilitators will be at the arrival holding the welcome board with sign of ITC logo and SKIMA logo.
For those stay at the other hotel, you will see a lot of taxi and different kind of transportation at the arrival.
Taxi: the most convenient and safe transportation.
The price is slightly expensive compared to other transportation, approximately 15$.
Tuk Tuk: It would be better if you download Passapp or Grabe, these kind of transportation are also the most popular ones in Phnom Penh, and it is quite cheap. The price will be calculated in meter.
From 3-5 Dec, Our facilitators will be going to pick up those who stay at Sunway Hotel, Sanhen Hotel and Phnom Penh Hotel 30mns before the conference starts.
Meals
| | | | |
| --- | --- | --- | --- |
| Date | Lunch | Dinner | Restaurant |
| 03 Dec 18 | No | Reception | To be confirmed |
| 04 Dec 18 | Yes | Yes | To be confirmed |
| 05 Dec 18 | Yes | No | No |
Emergency call: Contact:
Ms. LY Soda. +85578282969
Email: soda@itc.edu.kh
WhatsApp: Ly Soda
Partner Universities