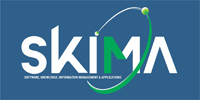 13th International Conference on Software, Knowledge, Information Management and Applications
(with The International Workshop on Applied Artificial Intelligence - AI)
26-28 August 2019,
Island of Ulkulhas, Maldives

AI Maldives
This international workshop will bring together researchers and practitioners working in the area of applied artificial intelligence (AI) to exchange the latest developments in this exciting field. AI is perhaps the most important and disruptive development happening in our lifetime at present. Developments in AI are happening faster today than ever before. For this workshop, we are seeking papers based on original unpublished research demonstrating the applications of AI that has a tangible impact on real world problems.
The #AI Maldives 2019 is part of the 2019 IEEE sponsored International Conference on Software, Knowledge, Information Management & Applications (SKIMA 2019). The #AI Maldives 2019 workshop as well as the general SKIMA 2019 conference will be held in the beautiful as well as the eco-friendly island of Ukulhas in the Maldives.
For Details Click here.
Sponsors
Partner Universities