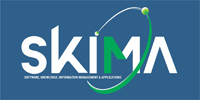 11th International Conference on Software, Knowledge, Information Management & Applications
06 - 08 December, 2017, Colombo, Sri Lanka

Welcome To SKIMA 2017
The 11th International Conference on Software, Knowledge, Information Management and Applications (SKIMA 2017) is going to be held from 06 to 08 December 2017 in Colombo, Sri Lanka. The conference aims to bring together researchers and experts in Knowledge Management, Software Engineering and Information Systems to share their ideas, experiences and insights. We welcome researchers and practitioners from academia, industries, research institutions, R&D enterprise services and governmental organisations to exchange innovative contributions around the conference topics. This conference series was started in an international collaboration context between research professionals in Western and Asian countries in Chiang Mai, Thailand 2006. Subsequently, the next SKIMA conferences were organized in Kathmandu, Nepal in 2008; Fez, Morocco in 2009; Paro, Bhutan in 2010; Benevento, Italy in 2011, Chengdu, China in 2012, Chiang Mai Thailand in 2013, Dhaka, Bangladesh in 2014, Kathmandu, Nepal in 2015 and Chengdu, China in 2016. The research topics of SKIMA 2017 are very significant for developed and fast growing region.
Keynote Speakers
Prof. Hassan Ugail
Director of the Centre for Visual Computing
University of Bradford, UK.


Professor Hassan Ugail is the director of the Centre for Visual Computing at University of Bradford, UK. Prof. Ugail has a first class BSc Honours degree in Mathematics from King's College London and a PhD in the field of geometric design from the Sch...

Prof. Hongnian Yu

Professor Hongnian Yu has held academic positions at the Universities of Sussex, Liverpool John Moor, Exeter, Bradford, Staffordshire and now Bournemouth in the UK. He has successfully supervised 18 PhD theses and 18 Master by Research theses, and has examined over 30 PhD/MPhil students' theses as both internal and external examiner. He has trained 11 po...

Ruhul Sarker obtained his BScEng (1982) and MEng (1984) degrees from BUET, Dhaka and Ph.D. in 1992 from Dalhousie University, Halifax, Canada. He is currently a Full Professor in the School of Engineering and IT, and Director of Faculty Postgraduate Research at University of New South Wales, Canberra, Australia. His main research interests are Evolutionary Optimization, and Applied ...
Sponsors
Partner Universities